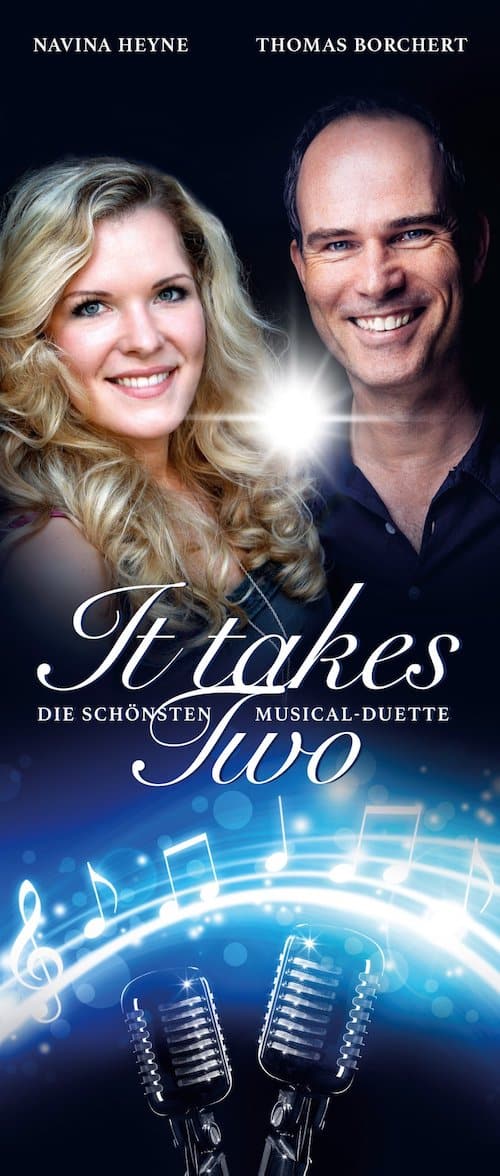 IT TAKES TWO – Die schönsten Musical-Duette
Das neue Konzertprogramm von Thomas Borchert & Navina Heyne.
Es braucht zwei, um sich zu streiten. Es braucht zwei, um sich zu verbünden. Es braucht zwei, um sich zu lieben.
Zwei braucht es auch für eine große Musical-Nummer!
Diese Show ist vollgepackt mit Emotionen.
Erlebt die romantischsten, spannendsten und lustigsten Duette, die die Musicalwelt zu bieten hat!
Hier ein kurzer Auszug aus der Setliste des Konzerts:
• "Dangerous Game" aus Jekyll und Hyde
• "Totale Finsternis" aus Tanz der Vampire
• "Time Of My Life" aus Dirty Dancing
• "You ́re The One That I Want" aus Grease
• "Einmal Nur" aus Im Weißen Rössl
• "Over The Rainbow" aus Wizard Of Oz
u.v.m.
PREMIERE: 15.September 2018 – 20 Uhr – DEUTSCHES THEATER MÜNCHEN | Silbersaal
Das EXCLUSIVE PREVIEW-Konzert fand am 29.Juli um 18 Uhr im Kulturhof Ahausen statt.
Weitere Termine sind bereits in Arbeit, die Planungen dafür laufen auf Hochtouren.
_______________________________
18.01.2019 – Tour-Update:
✔ 29.07.2018 – Kulturhof AHAUSEN / DE *Exclusive Preview"
✔ 15.09.2018 – Deutsches Theater MÜNCHEN / DE *Premiere* AUSVERKAUFT!
✔ 16.09.2018 – Deutsches Theater MÜNCHEN / DE *Zusatzkonzert*
✔ 17.09.2018 – Wiener Metropol WIEN / AT – AUSVERKAUFT!
✔ 21.09.2018 – Stadthaus ULM / DE *Benefizkonzert*
✔ 05.11.2018 – Capitol MANNHEIM / DE
✔ 17.01.2019 – Festhalle BRÜHL / DE
✔ 22.03.2019 – Stadthalle Troisdorf / DE
✔ 23.03.2019 – Neue Gebläsehalle NEUNKIRCHEN / DE
08.05.2019 – Metropol Theater WIEN / AT – Tickets
30.05.2019 – Lokremise ST.GALLEN / CH – Tickets
31.05.2019 – Deutsches Theater MÜNCHEN / DE – Tickets